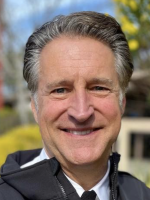 Rev. Daniel Christian
Welcome to Good Shepherd Lutheran Church. I am honored to be the pastor to this wonderful congregation that is filled with a sense of joy, purpose, faithfulness and community.  I'd like to share a little about myself and I thank you for taking time to learn about our church.
Sincerely,
Rev.Daniel Christian
Pastor:  Teacher, preacher, counselor and cheerleader for the faith lives of adults, children, and family pets.
Born Into The World: The #1 Song was "Respect" by Aretha Franklin and best picture was In The Heat Of The  Night, and Chevrolet introduced the  Camaro.
Family: The love of my life Michelle, our beautiful daughter Tessa, our son Micha and our dog Rooster.
Belief:  All are welcome to sit at the table that Christ has prepared, no matter where you born, how much money you make or who you love.
Favorite Scripture:  Romans 8: 31-39 and whatever I am preaching on each week.
Favorite Book in the Bible:  Acts
Music: The Black Eyed Peas, U2, Train, Johnny Cash, an array of country and pop songs and some Christian contemporary.   Michelle plays a lot of Christian songs for children in the morning for Micah and we sing along. We are singing a lot of Alicia Keys, "Girl on Fire", "Brave" by Sara Bareilles and a variety of music from a growing middle schooler!
Hobbies: Weight lifting, Tennis, hiking, dog walking and hoping to start doing more ballroom dance.
Favorite Recent Movie: Westside Story, Don't Look Up, CODA, The Vampire Diaries and all Marvel movies and my favorite is Guardians of the Galaxy!
Favorite Book This Year:   "The Book of Joy" by the Dalai Lama and Desmond Tutu.
Education:  Master Of Divinity from San Francisco Theological Seminary, B.A. in Film from San Francisco State University.